Introducing our stunning upholstered queen size bed, designed with comfort, style, and luxury in mind. This bed is fully upholstered with high-quality velvet fabric, offering a soft and comfortable sleeping experience that you won't want to leave.
The headboard of this bed is truly something special. With its long button tufted design, it adds an elegant and sophisticated touch to your bedroom decor. The headboard's height is perfect for sitting up in bed, reading a book, or watching your favorite shows on your tablet.
But the benefits of this queen size bed don't end with its beautiful design. The high-quality velvet fabric used in this bed's construction is incredibly durable and long-lasting, ensuring that your investment in this bed will provide you with comfort for years to come.
The bed's frame is crafted from sturdy materials, ensuring that it can withstand the daily wear and tear of regular use. Additionally, the frame is designed to provide excellent support, preventing sagging and ensuring that you get the best possible night's sleep.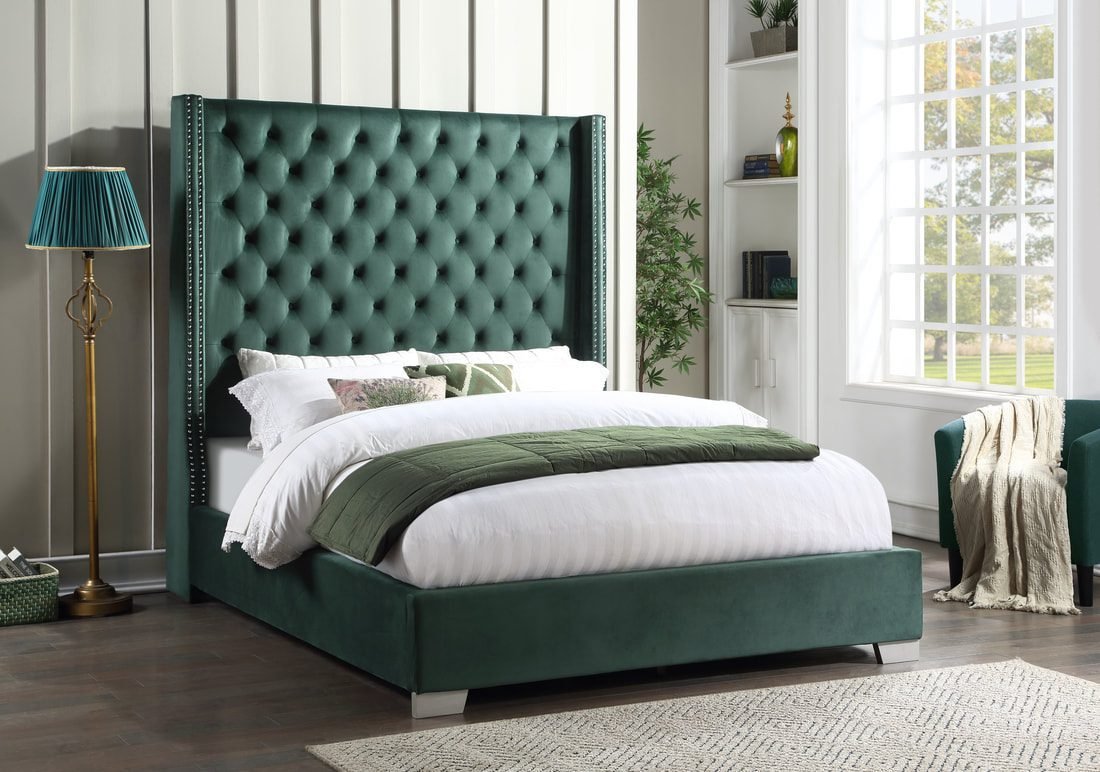 Other Feature of this queen size bed
The fully upholstered design of this queen size bed also makes it incredibly easy to clean and maintain. Any spills or stains can be quickly wiped away with a damp cloth, allowing you to keep your bed looking fresh and new.
But beyond its practical benefits, this bed is also a statement piece in your bedroom. Its elegant design and luxurious materials make it the centerpiece of any room, drawing the eye and creating a warm and inviting atmosphere.
And, of course, this queen size bed is incredibly comfortable. The soft velvet fabric cradles your body, providing you with a cozy and relaxing environment that makes it easy to drift off to sleep.
When you invest in this upholstered bed, you're investing in a piece of furniture that will provide you with years of comfort, style, and luxury. Whether you're upgrading your bedroom decor or simply looking for a better night's sleep, this bed is the perfect choice. With its stunning design, high-quality materials, and unbeatable comfort, you won't find a better bed on the market.
How this queen size is different.
Beyond its physical benefits, this bed is also designed to promote healthy sleep habits. With its sturdy frame and excellent support, it ensures that your body is properly aligned throughout the night, reducing the risk of back pain and other sleep-related issues.
And with its high-quality materials and expert craftsmanship, you can trust that this bed will provide you with reliable performance for years to come. From its durable frame to its resilient upholstery, every aspect of this bed is built to last.
In conclusion, this upholstered bed is an exceptional choice for anyone looking to upgrade their bedroom decor or improve their sleep quality. With its luxurious materials, elegant design, and unbeatable comfort, it's the perfect addition to any home. Whether you're looking to create a cozy sanctuary or simply want to make your bedroom more stylish and inviting, this bed is the ultimate choice. So why wait? Invest in your comfort and style today with this stunning upholstered bed.
Features:
Bed Upholstery : Fabric
Easy to clean and maintain
Material: plywood and MDF frame
Product Features; Includes Hardware
Bed logs: Metal
Available in different colors
Dimensions:
Internal mattress opening: 200cm L x 180 cm W (Optional)
Dimensions: 215cm L x 200cm W x 260cm H (Optional)
Note:
Please note that color variations in products may occur due to color combinations in screen/monitor. You can see our products in store or catalog to confirm the actual product. Please check different type of beautiful queen size bed here and order us for more sophisticated designs
| | |
| --- | --- |
| Size | 160cm x 200cm (Queen Size), 180cm x 200cm (King ), 200cm x 200cm (Super King Size) |